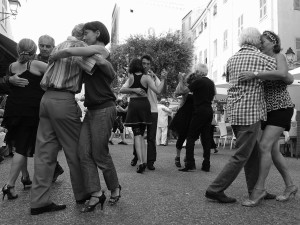 A new adventure for the acturelab, inspired by our collaboration with the Castlemaine Argentine Tango group.
Argentine tango (not the same as ballroom tango) is a true workout for the mind and body. Danced socially throughout the world by people of all ages, Argentine tango is improvised, and it can be as gentle or as energetic as you choose to make it. Although it can appear to be simple, it requires developing profound body awareness, balance, and co-ordination.
Our Tangofit classes don't require a partner or dancing shoes, and focus on movement sequences to build awareness, balance, flexibility, and strength.
Check our timetable for class times: coming soon – or contact Miranda on 0419537480 to enquire.