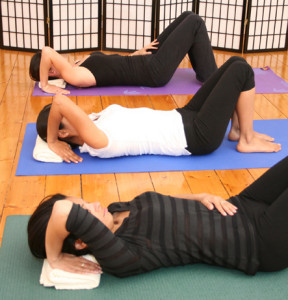 In these classes you are verbally guided through easy, dynamic movement sequences designed to improve your muscle and joint co-ordination.
The movement sequences are structured to allow you to gradually release muscle tensions, to awaken movement in yourself where you have forgotten how to move, and to organise yourself for more integrated movement. Many of the movements are actually tiny 'chunks' of real, everyday movements like walking, reaching, sitting. You will feel a difference in yourself immediately after just one class. Attending classes regularly reinforces your learning, and improved movement in everyday life becomes automatic.
Group classes in the Feldenkrais Method® are called Awareness Through Movement® classes.